Pakistan: what is behind the bombings in Lahore?
Comments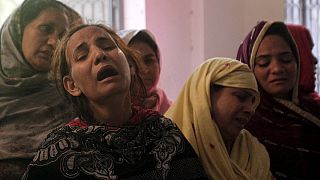 In the aftermath of the deadly blasts in Pakistan there are many questions. Who are the Taliban, the same as the fighters in Afghanistan and what the reasons for targeting Christians?
In recent years violence against them has increased. An estimated 140 have been killed in separate attacks including one last March when there were bomb blasts at two churches. Fourteen were killed and more than 70 injured.
Pakistan's blasphemy laws which critics say have been used to persecute minority faiths and unfairly target minorities have also been to blame.
Before partition in 1947 minorities represented 15 percent of the population. Now such minorities make up no more than four percent.
The population is overwhelmingly Muslim. Hindus are the second highest representing just two percent while Christians make up 1.6 percent.
The blasphemy laws were first introduced under British rule. Pakistan inherited them and they were strengthened under the dictatorship of General Zia ul Aq.
He wanted to "Islamicise" the laws. Radical Islamists defend them as seen in the demonstrations in support of an extremist who was hanged for assassinating a governor who wanted to relax the laws.
Amending them has been on the agenda of nearly all the popular secular parties but none has made significant progress.
The Pakistan military has also been the target of the Taliban.It's understood the group's objectives are resistance against the Pakistani state and enforcement of their interpretation of sharia law.
When seven gunmen attacked an army school in December 2014 which killed 140 it was a strike against the military. The Taliban claimed responsiblity and described it as revenge for the Pakistani military's offensive in North Waziristan.
On the border with Afghanistan in the tribal areas of Waziristan the Taliban have fought a bloody conflict against the army for the past two years.
The military offensive was launched in June 2014 and targeted various groups in the area.
The army moved in after an attack on Jinnah International Airport for which the Taliban claimed responsibility.
The offensive is part of an ongoing conflict in North Western Pakistan in which, it's estimated over 2,000 have been killed.