Cockpit crew hailed heroes after Kazakh emergency landing
Comments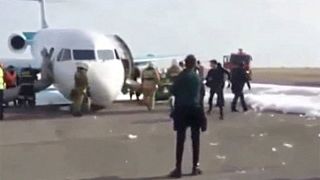 It could have ended in tragedy.
A plane in Kazakhstan was forced to touch down on Sunday without its front landing gear after a technical malfunction but the cockpit crew delivered all the 116 passengers to the ground safely without anyone being injured.
The pilots have been hailed as heroes.
The Fokker 100, belonging to the Kazakh Bek Air airline, was on a domestic flight from Kyzylorda when it made the emergency landing in the capital Astana