Christians targeted in deadly bomb attack in Lahore
Comments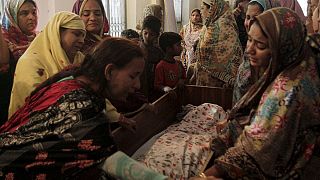 Police in Pakistan are hunting militants behind a suicide bomb attack that has killed at least 69 people and injured at least 300 more.
Sunday's blast, which happened in a park in the eastern city of Lahore, targeted Christian families as they celebrated Easter.
A Taliban faction has claimed responsibility, a faction that once declared ties with the so-called Islamic State.
"I carried twenty children, to be taken to the the civil hospital. I moved three bodies to a police car. At the time of the blast, the children were playing at the fairground;" explained one witness.
"The Christian community was ending their fast and celebrating Easter. A lot of Christians come here for this type of occasion. I can't explain the tragic scene."
Many of the victims were women and children and the death toll is expected to rise.
Pakistan's been plagued by violence for years, since joining a US-led campaign against Islamist militancy after the 9-11 attacks in America.
Many Christians accuse the government of doing little to protect them.