Use weapons of love to combat violence, says Pope on Easter Sunday
Comments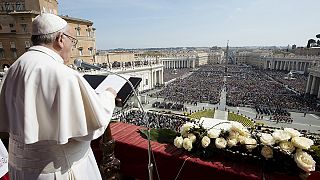 Use the weapons of love to combat blind and brutal violence, that was Pope Francis' message on Easter Sunday.
Security was tight for the traditional mass held in St Peter's Square where tens of thousands of people turned out.
The former king and queen of Belgium were also in attendance, as the Pope spoke of the recent terror attacks in Belgium, Turkey, Nigeria, Chad, Cameroon, Ivory Coast, and Iraq.
"The Lord Jesus, May He draw us closer on this Easter feast to the victims of terrorism, that blind and brutal form of violence which continues to shed blood in different parts of the world…"
The pontiff also used the podium to express hope for an end to the conflicts in Syria, Iraq and Yemen as well as political tensions in Burundi, Mozambique, the Democratic Republic of Congo, South Sudan and Ukraine.
He also urged Europe not to forget migrants and refugees fleeing from war and poverty.