Protests in Yemen against Saudi-led coalition on air strikes anniversary
Comments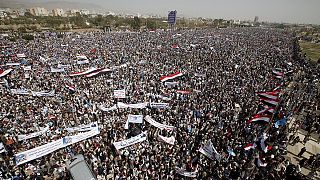 Tens of thousands of people in Yemen have rallied in Sanaa in mass protests against the Saudi-led coalition's military campaign, on the first anniversary of the offensive battling fighters allied to Iran.
The coalition joined the war against Houthi rebels and their allies who still control much of the country including the capital.
There was a rare appearance at the rally from former President Ali Abdullah Saleh, a Houthi ally who was forced to step down after mass protests five years ago.
Saleh told the crowd that they were extending the "hand of peace" for direct talks with the Saudi regime – without returning to the UN Security Council which he said was "incapable of resolving anything".
The UN's envoy to Yemen said last week that the country's warring parties had agreed to a cessation of hostilities starting next month to be followed by peace talks.
More than 6,000 people have been killed in the year since Saudi-led foreign forces intervened to restore President Hadi and his internationally-recognised government to power.
The United Nations says some 2.4 million people – a tenth of the population – have been forced from their homes, prompting a humanitarian disaster across much of the Arab world's poorest country.
#Yemen: 1000s killed, 2.4m displaced, their stories fading from headlines. People need peace https://t.co/IQeFsniMK8pic.twitter.com/Fq6fyuKmQh

— Stephen O'Brien (@UNReliefChief) 26 March 2016
Saudi Arabia is committing war crimes in Yemen, write RashaMoh2</a> and <a href="https://twitter.com/RawanSSA18">RawanSSA18. https://t.co/KCrg4HfMqipic.twitter.com/IGNjuaU33k

— Foreign Policy (@ForeignPolicy) 26 March 2016
Saudi Arabia's critics have accused the country of war crimes over air strikes that have reportedly caused large numbers of civilian casualties.
In Britain a parliamentary committee is investigating the use of UK-manufactured weapons in the conflict.
Amid growing concern over the UK's role in the Yemen war, evidence has been uncovered indicating that British-made weapons have been used in air strikes deemed illegal by UN experts.
Serious questions are being asked about the UK's involvement in the civil war in Yemen https://t.co/ydQeVI7p1Ypic.twitter.com/mM9Gb9QOYb

— Sky News (@SkyNews) 25 March 2016