Murray needs new ball after blowing up at umpire
Comments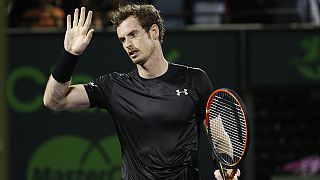 Andy Murray advances in Miami despite a break point strop with the umpire over a womens' ball that mistakenly got in the mix.
Murray lost that game, but cooled it to win in straight sets against Denis Istomin.
The contest featured some slick passing and the first set at 6-3 was much easier than the second, the Uzbek player stretching Murray to 7-5 before finding the net one too many times with his forehand.
Unseeded Andry Kuznetsov stopped the fourth seed Stanislas Wawrinka in his tracks, and in straight sets if you please, 6-4 6-3.
Others suffered even more in the heat and humidity, none more so than Rafael Nadal, falling dizzy after steaming the first set, and calling for an on-court doctor twice before bowing out at three games to love down in the third and final set against Damir Dzumhur.
As the Bosnian had also shown signs of suffering with the heat the crowd's boos for the 14-times grand slam champion seemed ungracious to say the least.