Pope Francis condemns 'unprecedented' terrorist violence in Good Friday speech
Comments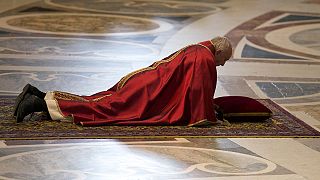 Pope Francis has used his Good Friday address to condemn Europe's reaction to the migrant crisis, which he said had been blunted by our "indifferent and anaesthetised conscience".
After the traditional "Stations of the Cross" procession around Rome's Colosseum, he also criticised the unchecked destruction of the environment.
And, having already condemned the "cruel abominations" of the Brussels attacks earlier in the week, the pope reserved some of his strongest words for the perpetrators and supporters of such violence.
"Oh Cross of Christ, today too we see you in expressions of fundamentalism and in terrorist acts committed by followers of some religions which profane the name of God and which use the holy name to justify their unprecedented violence," Pope Francis said.
The Cross is the word through which God has responded to evil in the world.

— Pope Francis (@Pontifex) 25 March 2016
Other themes the pope also condemned in his address included the persecution of Christians, individualistic society, paedophile priests and slavery.
Pope Francis Points at Weapons Industry Behind #Brussels Attack https://t.co/brfBnQEr0fpic.twitter.com/XPoEpQIJC0

— Democracy Now! (@democracynow) 25 March 2016
Good Friday sees Christians mark the day Jesus was crucified. In Spain, Easter weekend commemorations began with elaborate processions in Seville and other towns and cities.
Among the world's other Good Friday events, Catholic worshippers in the Mexican city of Taxco held an overnight procession, carrying crosses and flagellating themselves.
Masked peninents known as "encruzados" (the crucified ones) carried bundles of thorny branches on their backs.
Other devotees whipped themselves. The self-flagellation ritual representing sacrifice and atonement for sins is in line with a tradition in the city dating back to 1622.