No-one in Bosnia satisfied with Karadzic sentence
Comments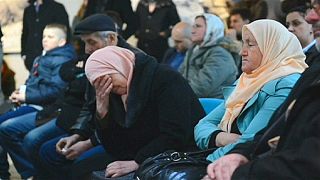 In Srebrenica, scene of an appalling massacre of Bosnian Muslim men and boys by the Serbs during the Yugoslav war, survivors and victims' family members followed the reading out of the sentence. Many were not happy.
"What else should he have been given than life sentence? I don't know if his family is still alive, but I've lost everybody, I am alone," said Saliha Osmanovic.
The town's graveyard bears witness to the at least 7000 lives that were taken here when the Bosnian Serbs brushed aside lightly-armed Dutch peacekeepers guarding the supposedly safe UN haven.
"I think 40 years for Karadzic is the jackpot for him after all that he organized, ordered and did," said Amir Kulagic.
"These Bosnians living here think that a life sentence would have been the only way to close their past after more than two decades," says euronews' Andrea Hajagos.
Go to Pale, the Serb's administrative capital during the war, and the reactions are very different. For many here Karadzic is a hero.
"Considering he was sentenced to 40 years in jail, I think Serbs will complain, which will not bring peace and reconciliation here for sure. If he got released the same would happen on the Bosnian Muslim side. I do not believe this verdict will help to improve relations between Serbs and Muslims here," said Milan Mitrovic.
"Nobody here likes this verdict, and it will not be better after this I think. People are disappointed. In general, our life here is bad, so this verdict comes as another big disappointment," said Sanja Rackovic.
The past is never far away in the Balkans. This sentence will not bury it.