Dutch football legend Cruyff dies aged 68
Comments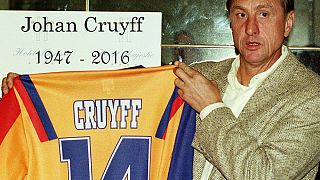 Johan Cruyff, widely regarded as one of football's greatest ever players, has died aged 68 after a five-month battle with lung cancer.
Cruyff, who was a heavy smoker and underwent double heart bypass surgery 1991, emerged as a world class player in the early 1970s.
He made his name as a forward playing first at Ajax and then Barcelona.
With Ajax he won three consecutive European Cups from 1971-73 and was also named European Footballer of the Year three times in the first half of the '70s.
From Ajax he joined Barcelona for a then world record fee of approximately 2 million dollars and went on to help the Catalan club win their first La Liga title in nearly 15 years in 1974.
That same year he played a key role in helping the Netherlands reach the World Cup final where his side were beaten 2-1 by West Germany – it was during this World Cup and in front of a global audience that he showcased the now-famous "Cruyff turn" for the first time.
Throughout his 20 year playing career he scored 293 goals across five different clubs and hit 48 goals for his country.
After retiring from playing in '84, Cruyff became highly successful as manager of Ajax and later Barcelona.
As Barca manager Cruyff created the 'Dream Team' that included Pep Guardiola, Ronald Koeman, Michael Laudrup, Romário and Hristo Stoichkov.
With this team Cruyff enjoyed four straight La Liga titles from 1991 and steered the club to its maiden European Cup triumph in 1992.
His possession-based style with an emphasis on relentless attack has been widely copied and is credited with underpinning Barca's subsequent successes, as well as those of the Spanish national team.
He died surrounded by friends and family at his home in Barcelona.