Brussels bombings: The suicide attackers and suspects
Comments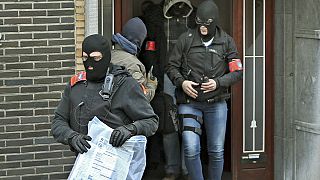 Belgian police are a hunting for a "third man" filmed with two suicide bombers at Brussels Airport, in the wake of Tuesday's attacks in the capital.
There are also reports that there could have been a second bomber in the Maelbeek metro station attack, close to the European Commission headquarters.
The so-called Islamic State militant group has claimed responsibility for the blasts, which killed more than 30 people and left hundreds more wounded.
So what do we do know so far about the suicide bombers, the suspects and the overall investigation?
Belgian authorities publish CCTV images of 3 suspects in #Brussels airport attack (AFP) https://t.co/HkNbgakg11pic.twitter.com/WD2GWO3WLJ

— euronews (@euronews) March 22, 2016
Airport attack: Ibrahim El Bakraoui
Belgian Ibrahim El Bakraoui, 29, blew himself up at Brussels airport, according to prosecutors
He was with two other men caught on

CCTV

at the airport
El Bakraoui was sentenced to nine years in prison in 2010 for shooting at police officers during an attempted robbery. He had been on the run since breaching parole terms last year
According to Turkish President Recep Tayyip Erdogan, El Bakraoui was detained near the Syrian border last year and deported to the Netherlands
Turkey claims that Belgium ignored its warning that he was a militant
El Bakraoui may have fled a shootout at a flat in the Forest area of Brussels last week. In the raid, investigators found an Islamic State flag, an assault rifle, detonators and a fingerprint of Paris attacks suspect Salah Abdeslam, who was arrested three days later
#Video of smoke at #Brussels airport after suicide attacks, via OnlineMagazin</a> <a href="https://t.co/OeTt8rVTQF">pic.twitter.com/OeTt8rVTQF</a></p>&mdash; SindhLeaks (Sindhleak) March 22, 2016
Airport attack: Najim Laachraoui
Security sources have told Belgian media that a second suicide bomber at Brussels airport was Najim Laachraoui
He is said to be one of the three men in the airport

CCTV

image
The Belgian, 25, is described in reports as a veteran Islamist fighter in Syria, suspected of making explosives belts for November's Paris attacks
Laachraoui is also alleged to have detonated a suitcase bomb at the airport
Prosecutors have said that Laachraoui's

DNA

was found in houses used by the Paris attackers last year
He left Brussels for Syria in February 2013
Belgian media have said that Laachraoui has technical training that could suggest that he may have been the armourer of the operation
Travelling under the false name Soufiane Kayal, he was documented driving from Hungary into Austria in September in a car driven by Salah Abdeslam
Airport attack: 'Third man' being hunted
A "third man," caught on the airport

CCTV

image, is being hunted
He is seen pushing a baggage trolley into the terminal, alongside the two men said to be Laachraoui and Brahim El Bakraoui
The man, wearing glasses, a cream jacket and a black hat, fled the scene – according to federal prosecutors
Metro attack: Khalid El Bakraoui
Belgian Khalid El Bakraoui, 27, is Ibrahim El Bakraoui's brother
He blew himself up on the Brussels metro train at Maelbeek station, according to prosecutors
Khalid was given a five-year jail sentence for car-jacking in 2011
Belgian media have cited police sources saying he used fake ID to rent the apartment in the Forest district of Brussels where police, hunting the Salah Abdeslam, killed a gunman in the raid last week
Khalid may have fled the shootout at the flat
Metro attack: A second bomber?/h3>

According to reports from Belgian public broadcaster

RTBF

, investigators now believe a second bomber was involved in the metro attack at Maelbeek station, close to the European Commission headquarters

The man was reportedly spotted on security cameras carrying a heavy bag, but his identity was unknown and it's not clear if he died or escaped.