Brussels bombers identified as two brothers
Comments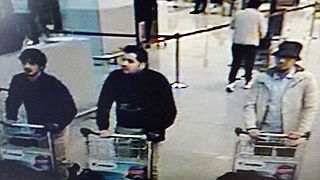 Two brothers identified as bombers
Third man "actively sought"
At least 31 dead, 270 injured
Belgium remains on maximum security alert
Investigators in Belgium say they now know two brothers were behind the attacks at Brussels airport and on the city's metro system.
Belgian national Brahim al Bakroui was known to police but had not been directly linked to militant activity.
Two other men seen with him in CCTV footage from the airport have not been identified.
One, wearing a white jacket, a black hat and glasses is actively sought by police.
He is believed to be 25-year-old Najim Laachraoui, who is also wanted for questioning about the Paris attacks last November.
Officers have raided an address in the Schaerbeek neighbourhood in Brussels and say they have found bomb-making equipment, including a suitcase full of nails, at the address.
It is understood Brahim al Bakroui had left a will on a computer found dumped in a rubbish bin near the militants' hideout.
Officials now know the explosion at the Maelbeek metro station was caused by a suicide bomber.
Belgian national Khalid al Bakroui, the younger brother of the suspect identified at the airport, is understood to have detonated his device in the second carriage of the train.
At least 31 people were killed and 270 have been injured.
Officials are warning that number may rise as the investigation progresses.