Turkey condemns Brussels attacks
Comments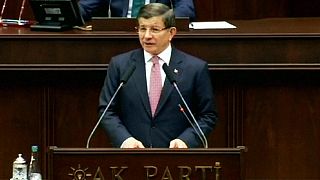 From the Turkish Parliament strong condemnation of the attacks in Brussels. In expressing his condolences Prime Minister Ahmet Davutoglu also called on people to join together to outlaw all terrorist groups.
"I condemn the attack. It shows once again the face of global terrorism that took place in Brussels this morning and I express my condolences to the government and people of Belgium. I want to share the feelings of solidarity on behalf of our nation. We were in Brussels last week. Today, here again, I invite humankind to act together against every kind of terrorism: the PKK, Daesh, DHKPC, every kind of terrorism," he told lawmakers in the chamber.
The blasts in the Belgium capital came just three days after a suspected Islamic State member blew himself up in Istanbul killing four tourists.