A four-month manhunt - the capture of Salah Abdeslam
Comments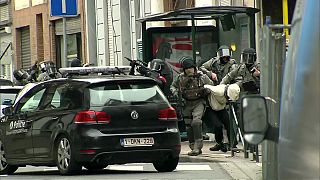 Belgium was put at the centre of the investigation immediately after the attacks of November 13 in Paris. The following day controls at the French – Belgium border were strengthened. But the alleged logistical brains behind the slaughter of 130 people was not found.
Salah Abdeslam had already returned to his home in Belgium. He passed through a control at Cambrai close to the border. He was let through as he was not the French police files.
The terrorist threat is raised from level three to four in Brussels on November 14. Searches were mounted in Molenbeek, the Brussels neighbourhood where Abdeslam lived. They led to a man being detained but the authorities gave no details. The following days more arrests were made but Salah Abdeslam was not found.
On November 21 the Belgian federal prosecutor's office announced that no weapons or suicide explosive vests had been found and that one woman had been arrested and accused of involvement in terrorist attacks.
There is a sense that information is not forthcoming from the authorities.
"The question was why did we go to the level of threat of four and the prime minister said there is indications that people with arms and explosives are in the region of Brussels but we don't give any more details because there are a lot of investigations going on," Interior Minister Jan Jambon told reporters.
Despite the media blackout 16 arrests were made after 19 raids on the night of Sunday November 22 in Molenbeek and also in Liege and Charleroi all in connection with the Paris attacks. Hundreds of police, soldiers and special forces had been deployed but still there was no trace of Salah Abdeslam.
The manhunt has lasted 10 days and during that time the terrorist threat level is maintained at four in the Brussels area and three in the rest of the country. Schools are closed as too is the metro. Soldiers are a constant presence on the streets. The authorities insist that an imminent attack is possible.
The investigation receives a boost. On December 10 fingerprints of Saleh Abdelsam are found along with traces of explosives and three suicide belts like the ones used in the Paris attacks in an apartment in the Scharbeek neighbourhood of Brussels. The information was not released until January 8 2016.
The net closes in. On March 15 a Franco-Belgian police operation is mounted in Forest a commune to the south west of the capital. There is a sudden burst of fire and one man, an Algerian Mohammed Belkaid is killed. Weapons and the Daesh flag are found but two people manage to escape.
Finally on March 18 the police launch at raid in Molenbeek. Traces of DNA and fingerprints of Abdeslam Salah had been found three days before in the apartment in Forest. Four months after the attacks in Paris the hunt returns to one of the starting points in Belgium and Saleh Abdeslam is found hiding in Molenbeek.