Turkey on high alert after Saturday's suicide bombing
Comments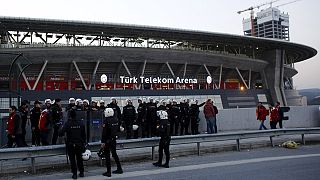 A high profile football match in Istanbul was called off and the stadium evacuated two hours before kick-off on Sunday with the Turkish authorities citing an unspecified threat. The cancellation of the derby game between Istanbul rivals Fenerbahce and Galatasaray came as the county maintains a heightened state of alert following Saturday's suicide bombing
We will never surrender to the agenda of terror
In his first public appearance since the attack President Recep Tayyip Erdogan said Turkey will not give into militants.
"We will never surrender to the agenda of terror. We will defeat the terrorist organisations and the powers behind them by looking after the unity of our nation. "
More than 200,000 members of the police are now on duty in major Turkish cities some of whom have set up checkpoints
The attack in Istanbul's most popular shopping district is the fourth such bombing in Turkey this year and the second said to be by Islamist extremists. In January a suicide bomber blew himself up in Istanbul's historic heart, killing 12 German tourists.
An offshoot of the militant Kurdistan Workers Party (PKK) claimed responsibility for two recent car bomb attacks in the capital Ankara that killed a total of 66 people. Turkey sees the Kurdish insurgency as fueled by the territorial gains of Kurdish militia fighters in northern Syria.
Four people were killed on Saturday – three Israelis and an Iranian. The Israeli victims have now been been flown to Israel.
IN PHOTOS: IDF brings home Israeli victims of Istanbul bombing https://t.co/UiP0Qw9e7W

— Israel News (@IsraelNewsNow) March 20, 2016
Turkey is fighting both ISIL in neighbouring Syria and Kurdish militants in its southeast. The spate of bombings which have killed more than 80 people has raised questions about Turkey's ability to protect itself.