One million and counting: EU migrant deal has little effect on Greece
Comments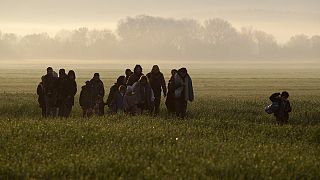 Greece is bearing the brunt of the migrant crisis. Following the EU-Turkey deal, migrants and refugees attempting to cross the Aegean Sea to Greece now face a multitude of barriers, including patrols by Frontex, NATO and the Greek and Turkish Coast Guards,
The International Organization for Migration (IOM) reports that 144,899 of the 158,361 migrants and refugees reaching Europe since the start of the year have landed in Greece. That represents around 90 percent of the total arrivals since January.
The one millionth migrant entered Greece by sea on Saturday (March 19), according to the IOM.
IOM reports the one millionth migrant entered Greece by sea last Saturday. pic.twitter.com/bD34FKshmG

— IOM (@IOM_news) March 21, 2016
Stamatis Giannisis, the head of euronews' Greek bureau, sent us the latest figures from the country on Monday, March 21.
50,000 migrants and refugees are currently residing in Greece
13,000 people seeking shelter in the Idomeni camp on Greece's northern border
5,500 refugees and migrants are on the eastern Aegean islands
14,000 said to be in the greater Athens area
18,000 scattered around mainland Greece from the capital up to the border with the Former Yugoslav Republic of Macedonia
Last week's EU-Turkey deal, Stamatis says, appears to have done little to halt the flow of new arrivals.