Violent clashes at Moroccan topflight game leaves two dead and 54 injured
Comments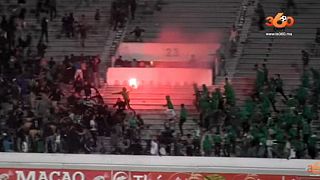 Two people have been killed and some 54 injured after supporters of the same Moroccan club clashed following a topflight game in Casablanca.
Fighting broke out between separate supporter groups of 11 times champions Raja de Casablanca – the home side – after their match with Hoceima.
It is unclear why the clashes erupted at the Mohammed V stadium.
Security services said in a statement that 31 people were arrested after the match for involvement in 'acts of vandalism'.
Ten people had been arrested prior to the game for the same reason.
Raja, who won the match 2-1, have been fined 10 thousand euros and told to play five matches behind closed doors.