Foreign victims pay heavy price in Istanbul suicide blast
Comments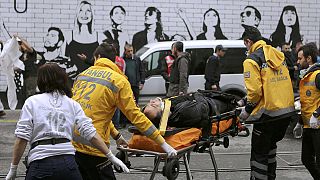 It was Turkey's fourth suicide attack this year.
But this time all four people killed and many of the dozens injured on a busy shopping street in Istanbul on Saturday morning were foreigners.
Three Israelis, two of them dual American nationals, and an Iranian citizen are said to have died in the blast.
Three Israelis and one Iranian killed suicide bomb attack in #Istanbulhttps://t.co/8RGaxtccxZpic.twitter.com/jMbCUch5vy

— Hürriyet Daily News (@HDNER) March 19, 2016
It happened as Iran's Foreign Minister Mohammad Javad Zarif was visiting his Turkish counterpart in Ankara, where a suicide car bomb killed 37 people last weekend.
"Terror has once again shown its ugly and heinous face, targeting civilians," said Turkey's Foreign Minister Mevlut Cavusoglu at a joint news conference in the Turkish capital.
"Our fight against terrorism will continue with full force at home and abroad. And that is our expectation from the world, especially from Europe. We should act together in our fight against terrorism with no ifs or buts."
The blast, which also wounded at least 39 people, was a few hundred metres from an area where police buses are often stationed. It sent panicked shoppers scurrying into alleys off Istiklal Street, a long pedestrian avenue lined with international stores and foreign consulates.
CCTV captured the moment the bomber struck.
Turkey has been targeted by both Kurdish and ISIL militants.
There was no immediate claim of responsibility for the latest attack.
According to Turkish media, the bomber behind the Istanbul blast is suspected of having links with the so-called Islamic State.
"There is information that it is an attack carried out by an ISIS member, but this is preliminary information, we are still checking it," Israeli Prime Minister Benjamin Netanyahu told reporters.
İstanbul'da kanlı eylem: 3 İsrailli ve 1 İranlı hayatını kaybetti, 36 kişi yaralandı

Posted by euronews on Saturday, 19 March 2016
The attack will raise further questions about the ability of NATO member Turkey to protect itself against a spillover of violence from the war in neighbouring Syria.
Turkey is battling a widening Kurdish insurgency in its southeast, which it sees as fuelled by the territorial gains of Kurdish militia fighters in northern Syria. It has also blamed some of the recent bombings on ISIL militants who crossed from its southern neighbour.
The death toll from the four separate suicide attacks in Turkey this year has now passed 80.