Istanbul in shock after deadly suicide bomb attack
Comments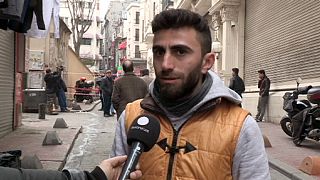 A normally bustling shopping street now sealed off by police. Residents are still reeling from the suicide bomb attack early on Saturday morning in Istanbul.
Shoppers had dashed in panic into side alleys when the blast went off on Istiklal street. One man told our reporter what he saw the moment the attack happened.
"There was an explosion. There was an enormous noise and there was a big hole in the road. Around 25-30 people were lying on the ground. Afterwards, the police came and then we left the area. I was afraid. Of course psychologically, it was really terrible."
"I saw a body on the street. No one was treating him but then I saw someone who appeared to be a regular citizen trying to do something to the body. That was enough for me and I turned and went back," one resident told Reuters.
The trauma of a new attack has left many in the city feeling vulnerable, as euronews correspondent Bora Bayraktar reports:
"Despite all the security measures in place, the latest terrorist attack occurred in the very heart of Istanbul. Together with the impact of rumours of new attacks on social media, most of Istanbul's 14 million residents are staying home."