Obama sends letter on first direct US mail flight to Cuba
Comments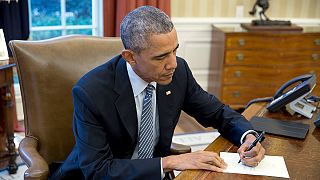 They are unlikely pen-pals.
But Barack Obama and a Cuban pensioner have exchanged letters, with the US leader responding to the 76-year-old's invitation to have a coffee with her in Havana during his historic trip to Communist-run Cuba this Sunday – the first by an American president in nearly 90 years.
Read the letter @POTUS sent to Ileana Yarza, a 76-year-old in Cuba who wrote to him: https://t.co/WEXDd2JuKspic.twitter.com/m5SIfAqT6H

— The White House (@WhiteHouse) 17 mars 2016
Thrilled with his reply and upcoming visit, Ileana Yarza says there is enthusiasm amid hope that the US trade embargo on Cuba will now end and relations will be restored on the basis of mutual respect and mutual agreement.
And, she added, "that the revolution retains many achievements for people, because in the end people need presidents to take care of them."
What makes the note from the White House even more special is that it was sent on the first direct US mail flight to Cuba in half a century .
The reestablishment of direct post is another landmark since the former Cold War enemies restored diplomatic ties in 2015.
Direct mail service between the United States and Cuba had been suspended since 1963.
Despite the ban, letters and other mail still flowed between the US and the island nation 90 miles (144.84 km) away through other countries, such as Canada, Mexico and Panama.