Visitors get to see more ancient homes at Pompeii
Comments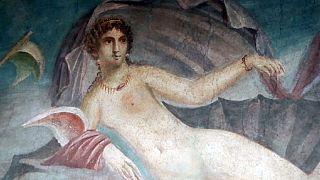 Five newly restored houses which were once buried under the volcanic ash of mount Vesuvius can now be seen in the ruins of the ancient Roman city of Pompeii.
The new exhibit which allows visitors to walk through the ancient homes and their gardens is called "Myth and Nature, from Greece to Pompeii" will remain open until October.
Mount Vesuvius erupted in AD79 covering the Roman city of Pompeii in volcanic ash and capturing everything from human beings to food exactly there they were at the time.
The exhibit at Pompeii is in collaboration with the National Archeological Museum of Naples which includes items found during excavations in Pompeii, including a piece of bread, seeds and grapes.