Kilde takes super-G title as Feuz wins back-to-back races
Comments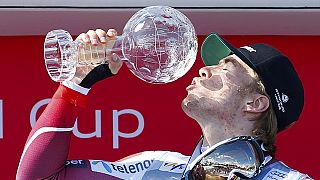 Norway's Aleksander Aamodt Kilde won the men's super-G title on Thursday at the World Cup finals in St Moritz.
Kilde nearly jumped off the course midway through, but the 23-year old recovered brilliantly to finish joint second and claim the first globe of his career.
It is also a record 10th title for Norwegian skiers in the discipline.
Kilde was shared second place on the day with compatriot Kjetil Jansrud.
Jansrud – the Olympic champion – missed out on his second-straight super-G race win after Kvitfjell last weekend – by one hundredths of a second.
He also finished the season second in the discipline standings.
In the final speed race of the men's campaign was won Beat Feuz.
The 29-year old Swiss skier thrilled the home crowd with his second victory in two days after also winning the downhill on Wednesday.