UN special envoy Angelina Jolie receives riotous welcome in Greece
Comments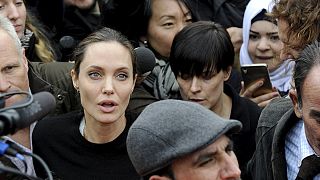 Angelina Jolie is no stranger to the spotlight, but the Hollywood actress received a riotous welcome on a trip to Piraeus port, near Athens, to highlight the plight of refugees and migrants.
As United Nations special envoy, Jolie's mission was to boost efforts by the UN's refugee agency and the Greek government to "reinforce efforts by UNHCR and the Greek government to step up the emergency response to the deteriorating humanitarian situation," she said in a press release.
Her visit came a day after the fifth anniversary of the start of Syria's civil war.
5 years on, "#Syria is the biggest humanitarian and refugee crisis of our time" #WithSyriahttps://t.co/3Ope7BtpCJpic.twitter.com/N7w7rIb2pw

— UNHCRNews (@RefugeesMedia) March 16, 2016
A makeshift camp at the port hosts thousands of refugees from the Middle East, but also irregular migrants.
Euronews reporter Panos Kitsikopoulos sent an update on the situation nationwide.
"Angelina Jolie's visit to the Piraeus port gave hope to the roughly 4,000 people hosted here. In the whole Attica region, we have almost 12,000 refugees and migrants, while there are around 45,000 in the whole of Greece. In Idomeni over 11,000 people have been registered, while the Greek government is preparing measures for an imminent evacuation of the area — a request also made by local authorities. Furthermore, at Thursday's summit in Brussels, Athens is going to put financial demands on the table," he said.
Mahmoud, a Syrian at the port, told euronews:
"We are very pleased that Angelina came to visit, to see the Syrian refugees. We give thanks to Greece and its people."
Panos Kitsikopoulos asked Ahmed, from Afghanistan, where he sees himself five years from now.
"As soon as the borders open and we go to a country, then we can say that we will have a future. But still we don't know. We are in a dark place," he responded.
Jolie was later received by Greek Prime Minister Alexis Tsipras in Athens and from there is eventually expected to travel north to the Idomeni camp on the Macedonian border.