Migrants: what could scupper the EU's talks with Turkey?
Comments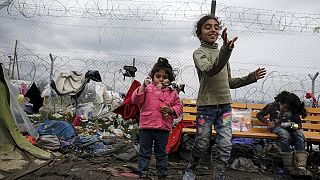 We are certainly not giving Turkey a free ride
A warning for Turkey
The EU has warned that a deal with Turkey to curb mass migration to Europe hinges on Ankara acting to support peace talks in EU member Cyprus.
European Council President Donald Tusk says much work remains to be done.
EU officials have made last minute alterations to the draft document with Turkey to make it legally watertight.
But insiders say a stand-off over Cyprus could scupper the deal.
The Rep of #Cyprus does not intend to consent to the opening of any Chapters if #Turkey does not fulfill its obligations

— Nicos Anastasiades (@AnastasiadesCY) March 15, 2016
Cypriot President Nicos Anastasiades has threatened to veto any progress in Turkey's accession talks unless Ankara meets its obligations to open Turkish ports and airports to Cypriot traffic.
This would amount to a de facto recognition of the state.
An EU summit deal would also mean countries agreeing to accept quotas of refugees, something several states have so far rejected.
The terms of the deal
The proposals suggest Turkey takes back all migrants and refugees who enter the EU illegally from its territory or are detained in its waters.
In return, Ankara will get more EU money, faster visa-free access for its citizens and an acceleration of its slow-moving EU membership negotiations.
EU leaders will meet Turkish Prime Minister Ahmet Davutoglu on Friday morning to finalise the deal.
Greece
Scene this morning at Piraeus Port #Athens#MigrantCrisispic.twitter.com/Vi9eneJxE1

—

BBC

Outside Source (@BBCOS) March 10, 2016
People at Athens port of #Piraeus finding shelter where they can, even under trucks pic.twitter.com/itR6iqt1qF

— Izza Leghtas (@IzzaLeghtas) March 16, 2016
Volunteers help refugees at Piraeus Port yesterday in Athens. #Refugees#refugeesGr#Grecia#SyrianRefugeespic.twitter.com/yOEJm4evzj

— Clara Sapena (@ClarayOscura) March 6, 2016
More than 4000 refugees and migrants have been given temporary shelter at Piraeus, the port of Athens.
They are being housed in four passenger terminals and a warehouse owned by the Port Authority.
Piraeus has become overcrowded as border restrictions have been imposed along the Balkan route leading to Western Europe.
Some are being transferred to other transit centres to ease the bottleneck at the port.
Italy
#primarie pd, matteorenzi</a> telefona ai <a href="https://twitter.com/hashtag/vincitori?src=hash">#vincitori</a> per congratularsi <a href="https://t.co/UtWZSm3uu0">https://t.co/UtWZSm3uu0</a> <a href="https://t.co/27vd2QU9q1">pic.twitter.com/27vd2QU9q1</a></p>&mdash; ilmessaggero (ilmessaggeroit) March 6, 2016
For Italian Prime Minister Matteo Renzi, the situation is hard to understand.
La carta d'identità dell'Europa di oggi
This is today's Europe ID Card
La carte d'identité de l'Europe d'aujourd'hui pic.twitter.com/2WV96zqnMv

— Matteo Renzi (@matteorenzi) March 14, 2016
"Europe can organise expeditions to Mars but in Idomeni we have women washing their new-born babies with bottled water in so-called refugee camps."
"This is happening in Greece,in Europe, on our continent."
The unprecedented human flow is causing problems right along the Mediterranean coast.
More than 600 people were brought ashore in southern Italy on Wednesday.
They had been rescued by a German ship off the coast of Libya.
Work is progressing but there is still a lot to do
"Work is progressing but there is still a lot to do" – EU Council President, Donald Tusk knows there are tough days ahead.
"It is right to reach an agreement with Turkey but there are principles that are fundamental for us, starting with human rights and press freedom." – Italian Prime Minister, Matteo Renzi says the EU's core values must be respected.
"We are certainly not giving Turkey a free ride," – EU Commission Vice President Frans Timmermans promises officials will not be a pushover.
"When a step has been taken towards a solution, when agreement has been reached on a package, the whole structure should not be allowed to be ruined just because of the caprice of one EU member country" – Turkey's EU Affairs Minister Volkan Bozkir says the process must not be derailed.
European Parliament President Martin Schulz has told Germany's Funke Media Group he does not expect a "final breakthrough" this week.