Rubio quits as the Trump campaign machine keeps rolling
Comments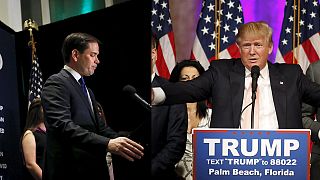 Republican Donald Trump scored a big win in the Florida primary as projections gave him at least three of the five states in the second Super Tuesday presidential nomination vote.
Clinching Florida gives him all 99 delegates in the state's winner-takes all system and consolidates his lead. He also took Illinois and North Carolina while Missouri was a virtual tie with Ted Cruz.
"We have to bring our party together. We have something happening that actually makes the Republican party probably the biggest political story anywhere in the world. Everybody's writing about it, all over Europe, all over the world they're talking about it. Millions of people are coming in to vote," Trump told supporters after winning Florida.
The main casualty on the night was Senator Marco Rubio whose poor showing in his home state of Florida has forced him to quit.
"The politics of resentment against other people will not just leave us a fractured party. They're going to leave us a fractured nation. They're going to leave us as a nation where people literally hate each other because they have different political opinions. That we we find ourselves at this point is not surprising for the warning signs have been here for close to a decade."
Rubio's departure leaves three Republican candidates – Trump, Ted Cruz and John Kasich who took Ohio. It means establishment party figures might give Kasich a hard look, since most oppose Trump or Cruz being the nominee.
US election 2016: Big wins for Trump and Clinton in Florida https://t.co/AcwYdCQ01hpic.twitter.com/JX9bmi35uo

— Bmax Blog (@BmaxNG) March 16, 2016