Clinton extends lead over Sanders on second Super Tuesday
Comments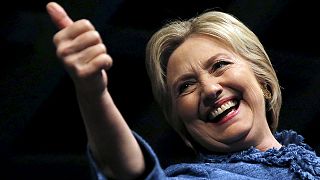 With four state wins under her belt and a virtual tie on a fifth, supporters of Hillary Clinton think the Democratic nomination is in view.
Her successes in Florida, Ohio, Illinois and North Carolina plus so-called "super delegates" makes it unlikely rical Bernie Sanders can catch up.
"Our next president has to be ready to face three big tasks: First, can you make positive differences in people's lives; second, can you keep us safe; third, can you bring our country together again," said Clinton in her victory speech in Florida.
The outcome of these latests primaries have left a "feel good" atmosphere in the Clinton camp:
"I think the general public likes her, I think she's got a strong case, supports a lot of things and issue that we talk about, care about," said one political fan.
"I remember seeing Hillary Clinton as First Lady when I was 14 years old. And to be able now and vote for her, she is the first woman who showed me that I didn't have to be someone's wife to be in politics, I can be in politics," said another.
Euronews correspondent Stefan Grobe was in Florida on the Democratic trail:
"It was Hillary Clinton biggest night so far of the whole primary season. In her victory speech, she signaled that Bernie Sanders is no longer a threat. She can now set her sights on whoever ends up being the Republican nominee."
US election 2016: Big wins for Trump and Clinton in Florida https://t.co/AcwYdCQ01hpic.twitter.com/JX9bmi35uo

— Bmax Blog (@BmaxNG) March 16, 2016