Wednesday Champions league ties complete quarter-final lineup
Comments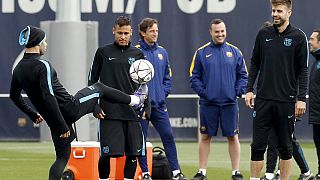 Wednesday night's champions league matches wraps up the teams to qualify for the quarter finals, and the tie between Bayern Munich and Juventus could not be more delicately balanced, although the Germans do have away goals as a cushion should the match end in a stalemate.
Both teams lead their respective championships and appear title-bound. But this is the big prize.
"Europe will watch how we walk out on the pitch. That is a big joy for me. It has never been worrying. We might win, we might lose," said Bayern manager Pep Guardiola.
Juventus have conceded only one goal in their last 12 serie A matches, but shipped two before coming back against the Germans, and will be without two key players, Dybala and Marchisio, who injured themselves in training.
Barcelona are in the catbird seat after their first leg dismantling of Arsenal in London, and are hot favourites to go all the way this year. The gunners will need to play their socks off to reverse their fortunes in what appears to be a mission impossible. But first they will need to see more of the ball.
"There is only one ball on the pitch and we want to take advantage of that. We want to keep the ball as long as possible so the rival's attacking players don't get it. That won't be easy. We are doing it, often better than our rivals, and that helps us achieve our goals," said Barcelona's manager Luis Enrique.
Arsenal are again contemplating the ruins of a season in which many thought their old problems had been solved and that the title would be returning after a long absence. The English title appears to be gone, and they have just been ejected from the FA Cup. They may decide that the only thing left to play for is pride against the Messi-Neymar-Suarez strikeforce.