Migrants heckle EU commissioner in Idomeni
Comments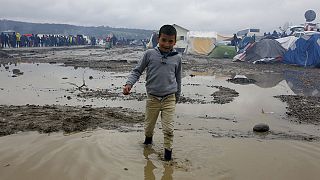 The flow of migrants from the eastern Aegean islands to Piraeus never stops
EU Commissioner heckled during Idomeni visit
10,000 blocked at camp on border
The European Commissioner for Migration, Home Affairs and Citizenship is heckled as he visits the transit camp at Idomeni.
Dmitris Avramopolous assured those waiting that refugees in need of international protection will receive it.
He affirmed, however, that irregular migrants will be returned to their country of origin.
At least ten thousand people are thought to have gathered here on the border between Greece and the Former Yugoslav Republic of Macedonia (FYROM)., as they make their way from the Middle East to Western Europe.
I call on all MS to open their doors&to respect #relocation schemes.We need to get to 6000relocations/month #Idomenipic.twitter.com/tiVLC3nj3N

— DimitrisAvramopoulos (@Avramopoulos) March 15, 2016
From #Idomeni, Avramopoulos</a> calls on EU Member States & neighbouring countries to work together | <a href="https://twitter.com/hashtag/refugeecrisis?src=hash">#refugeecrisis</a> <a href="https://t.co/Op2hvZ4hAO">https://t.co/Op2hvZ4hAO</a></p>&mdash; European Commission (EU_Commission) March 15, 2016
Avramopolous also appealed to EU member states to honour their commitments to share out the numbers arriving.
The EU's goal is to relocate 6,000 refugees per month, he added.
The numbers
Migrants heckle EU commissioner in Idomeni #Greecehttps://t.co/yHZ9lCiXLSpic.twitter.com/6Ndruugzrb

— euronews (@euronews) March 15, 2016
"The flow of migrants from the eastern Aegean islands to Piraeus never stops," says Euronews correspondent, Kostas Tsellos.
"4,000 live in the port, while 10000 more are on the islands waiting to be brought here by ship."
"Refugee centres on the Greek mainland house around 20000 people. Some do not want to go there in case they cannot move on."
"The Greek government says the Balkan route will remain closed. But there are many people prepared to risk their lives to get to Europe."
In tweets
The makeshift refugees' camp at the Greek-Macedonian border near the Greek village of Idomeni. #RefugeeCrisispic.twitter.com/lptVbl44iY

—

AFP

Photo Department (@AFPphoto) March 11, 2016
EU washes its hands of #refugees who have to wash their newborns in puddles https://t.co/2J5PvP0Q4n#Idomenipic.twitter.com/KFbgrYggpE

— Gerry Simpson (@GerrySimpsonHRW) March 14, 2016
Trying to keep warm in the wet hell that is #Idomeni refugee camp on Greek/Macedonia border. 1000s here SkyNews</a> <a href="https://t.co/pXcKUKmcTF">pic.twitter.com/pXcKUKmcTF</a></p>&mdash; Mark Stone (Stone_SkyNews) March 15, 2016