Ivory Coast attacks: fuller picture emerges after bloodbath
Comments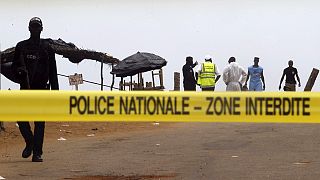 At least 15 dead
33 injured
Holidaymakers enjoying quiet Sunday at beach resort were targeted
The dead and injured
#Quote of the Day from Cote d'Ivoire Interior Minister Hamed Bakayoko, on Sunday's terrorist attack: pic.twitter.com/xoMGc5En0S

—

CFR

(@CFR_org) March 14, 2016
They were shouting 'Allahu Akbar'
At least 15 civilians are now known to have been killed in an attack on a beach resort in Ivory Coast at the weekend.
The German director of the Abidjan branch of the Goethe Institute was among them.
51-year-old Henrike Grohs had been in the country since 2013.
#CIV#YakoBassam ''3 terroristes abattus et non 6 '' Hamed Bakayoko #JeSuisBassam#PrayForBassampic.twitter.com/LqjsoLKrPZ

— Abidjan.net (@abidjan_net) March 14, 2016
Speaking after a cabinet meeting, Interior Minister Hamed Bakayoko said three members of the Ivorian special forces were also killed during the attack at the seafront town of Grand Bassam.
33 people were wounded.
The three Islamist militants who stormed the resort were also killed.
What happened?
Eyewitnesses say they heard gunshots.
"They opened fire as soon as they got here," said one, "they shot a man and his girlfriend and even the old lady selling water over there."
"They were shouting 'Allahu Akbar'."
The three attackers were forcing holidaymakers to shout "Allah Akbar" or "God is Great".
Those who refused were shot dead, it is claimed.
In tweets
Eyewitnesses describe Ivory Coast beach resort atrocity https://t.co/RFnPDMTdfl#GrandBassampic.twitter.com/6MLfHmToKN

—

FRANCE

24 (@FRANCE24) March 14, 2016
How I survived the #IvoryCoast#beach#attackhttps://t.co/3QTgaez2MV#IvoryCoastAttack#GrandBassam#CoteDIvoirepic.twitter.com/cC9065FIYQ

— World News Network (@worldnewsdotcom) March 14, 2016
Weapons used by one attacker in #GrandBassam#IvoryCoast, I think we can say now is a terror attack, via lopezdobe</a> <a href="https://t.co/X4qoUyGJHl">pic.twitter.com/X4qoUyGJHl</a></p>&mdash; Abraxas Spa (AbraxasSpa) March 13, 2016
Grand Bassam: Henrike Grohs, la directrice de l'institut Goethe, figure parmi les victimes https://t.co/HD33xfvMrqpic.twitter.com/2CDSrTkEC2

— koaci.com (@Koaci) March 14, 2016
Who was behind it?
Al-Qaida in the Islamic Maghreb (AQIM) has claimed responsibility for the attack, which was the first of its kind in the Ivory Coast.
Officials have been preparing for an attack in the wake of similar assaults by AQIM in
neighbouring Burkina Faso and Mali.