Israeli army kills three Palestinians after street attacks
Comments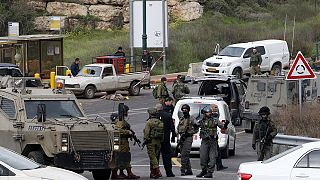 A spree of attacks has taken place near a Jewish settlement in the occupied West Bank. 
The Israeli army says three Palestinians have been shot dead by soldiers after a gun attack and a car ramming.
It says two of the Palestinians opened fire at civilians and soldiers waiting at a bus stop., wounding one soldier.
The army says a car was also rammed into a military vehicle and knives were found on the body of the Palestinian driver shot dead.
Two soldiers were hurt.
These are the latest attacks in a spiral of violence since October.
Some 184 Palestinians have been killed by Israeli soldiers, two thirds accused of being attackers. Most of the others were killed during clashes.
The army says Palestinians have killed 28 Israelis and two US citizens.