Gang accused of robbing drug dealers in Spain by posing as policemen
Comments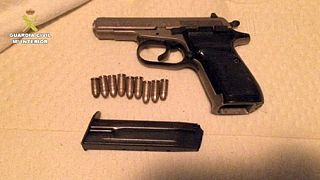 Police in Spain have arrested members of a crime gang suspected of robbing drug dealers by pretending to be policemen.
Authorities say some 30 suspected members of the gang have been captured.
Arrests took place in Barcelona, Málaga, Huelva and Cádiz.
Drugs, weapons, vehicles and more than 60,000 euros in cash have been seized.