Protest against US-S.Korea war games as Pyongyang 'seeks missing submarine'
Comments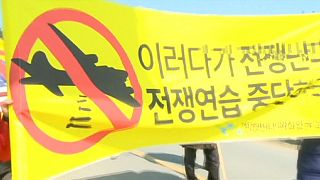 Not all South Koreans are happy about the current war games with the United States.
For while many see the annual drills as reassurance of Washington's support, faced with the threat from the belligerent North, critics believe they simply raise tension on an already tense Korean peninsula.
A small group of protesters gathered at South Korea's southern harbour city of Busan to make their voices heard.
"The joint military exercise by South Korea and the United States could only make the peninsula fall into the mire of war. We hope the exercise will stop right now. The people of the North and South Koreans are one nationality and we should exclude external powers," said one of the demonstrators.
The US nuclear-powered aircraft carrier USS John C. Stennis has arrived
in Busan to participate in the drills.
The exercises are an annual show of military might that the North sees as an threat of invasion. Amid its warnings of a possible preemptive strike in response, Pyongyang is said to be desperately seeking a missing submarine.
Details are scarce but reports from the US suggest that Kim Jong Un's sub – which was apparently being secretly watched by the Americans – may have sunk after suffering a technical problem during exercises of its own.
North Korea submarine 'goes missing' during US/South Korea drills https://t.co/dszOBr6zmgpic.twitter.com/4SfKLkYQDj

— The Telegraph (@Telegraph) 12 mars 2016