Travel Southern India on board of a luxury train
Comments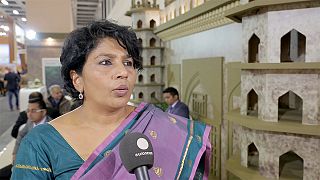 Euronews spoke at Berlin's ITB to Sathyavathi, Director at the Department of Tourism Karnataka, about "The Golden Chariot" – a fascinating luxury train going on a seven-day trip through Southern Indian states.
Last year we had around 6 Lakh (600,000) foreign tourists arrivals into Karnataka. So, we have the markets and most people that come to Karnataka come for heritage, wildlife, and the beaches.
The Golden Chariot – the only luxury tourist train in Southern India. Southern India is comprised of many states: Karnatka, Tamil Nadu, Kerala, Pondicherry, Andhra Pradesh. This train was started sometime in 2009 it's pure luxury. It is better than a fiver-star. The journey is to go in the train to various destinations. The whole tour takes around seven days. It goes from places to places. There are two itineraries, the Pride of South and Southern Splendor. The Pride of South takes you to Bangalore, Mysore, then Hassan, Hampi, Goa and it comes back. The Southern Splendor goes through the other states. It's real luxury, it has a dining car, it has a bar, it has everything you need, a spa, and a gym, and a business center, too.