South Pacific Islands make their voices heard at ITB
Comments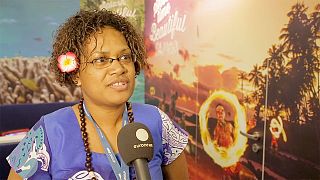 Euronews spoke at Berlin's ITB to Makelesi Muloilagi, Marketing Officer at South Pacific Tourism Organization, and to Halatoa Fua, Chief Executive Officer at Cook Islands Tourism Corporation, about how often overlooked islands in the South Pacific are true dream destinations.
Makelesi Muloilagi:
South Pacific Tourism represents a 16-island destination and at ITB, we have Fiji, we have Papua-New Guinea, we have New Caledonia, Samoa, and we have the Solomon Islands. The smaller islands we are trying to represent as well are Nauru, Kiribati, the Marshall Islands, the Federation of Micronesia, Nue, and also Tonga. So these are the ones we try to raise awareness for, because the European market does not know anything about them. There is a lack of information among travel agents.
Halatoa Fua:
We target the soft explorers because they would like to go and explore. We are not a destination where you're confined to your resort. There is high interaction with the locals, a lot of cultural interaction, water-sports activities, land-based activities around the mountains and trekking. There is a rich culture and a lot to do. We call it a "Little Paradise". The simplicity and the authenticity of the destination contribute to our uniqueness. We also take pride in the Cooks' being close to nature and to the people to provide this whole Polynesian experience.