Discover the "Spirit of Scotland"
Comments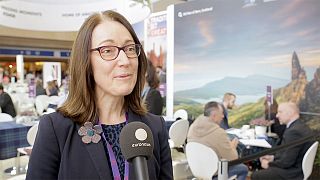 Euronews spoke at Berlin's ITB to Morna Marquordt, International Marketing Manager at Visit Scotland, about the country's current tourism campaign.
We just recently launched our new campaign called the "Spirit of Scotland". We did some consumer research across our international markets this year, which established that people are not only looking to come to Scotland to see the scenery, the landscape and the history and culture but also to experience the people of Scotland. Our campaign focuses on the emotional benefits of Scotland, so looking at the spirit of Scotland. People want to come to Scotland to get away from it all and to really feel that emotional attachment when they are here.