Prosecutors seek arrest of Brazil's former president Lula da Silva
Comments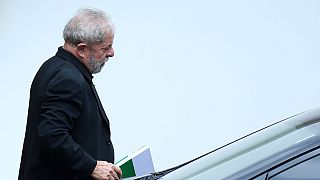 State prosecutors in Brazil are seeking the arrest of former President Luiz Inacio Lula da Silva less than a week after he was questioned by federal police as part of a separate probe into alleged bribery and money laundering.
The requested detention also concerns charges of dirty money as well as identity fraud over claims he concealed ownership of a beach-front apartment.
Lula denies ownership and wrongdoing.
Sao Paulo state prosecutor Cassio Roberto Conserino gave th e following statement:
"It is a roundup of testimonies, a roundup of documents, and the only conclusion that corresponded, was that that luxury apartment was destined for the ex-president of the Republic."
Conserino told the press that dozens of witnesses claim Lula was the owner of a luxury condo in the coastal city of Guaruja. He is seeking to use their testimony as proof that the former president profited from housing projects which were financed by a state bankers' cooperative.
Lula's lawyer has called on the Supreme Court to decide whether or not the case comes under the jurisdiction of a federal investigation into state-run oil company Petrobras.
That crisis is threatening to topple his successor and supporter, President Dilma Rousseff.