Myanmar NLD names Suu Kyi friend as presidential candidate
Comments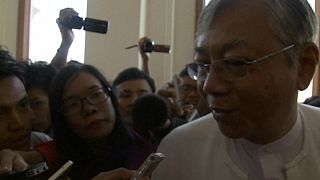 Myanmar's National League for Democracy (NLD) has proposed Htin Kyaw who is a close friend of party leader Aung Sun Suu Kyi , as presidential candidate for the lower house parliament .
Suu Kyi is barred from the job under a junta-drafted 2008 constitution because her children are not Myanmar citizens.
She has said she will run the country through a proxy anyway.
The NLD won a huge parliamentary majority in elections in November, so the candidate it backs for the presidency is likely to take the top job.
The country's upper house, lower house and the military will each nominate a candidate. The joint parliament will then vote, with the winner elected as president and the two losing candidates becoming vice presidents.