Germany's "Romantik Hotels" face challenges in a changing tourism industry through "authentic travelling"
Comments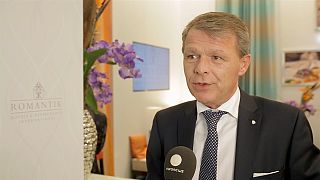 Euronews spoke at Berlin's ITB to Thomas Edelkamp, CEO at Romantik Hotels and Restaurants, about how his hotel chain offers a new travel experience using strong regional identity and "authentic" experiences as a concept to react to new trends in tourism.
Tourism is one of the biggest industries in Germany and in Europe. We see continued growth and we are glad to participate and we hope that over the next years this growth will continue. We see that travellers are changing. Tourists are changing. It is about finding an authentic way of travelling, it's about experiencing regionality, and it's not about copying what other travellers have experienced. This is what we are trying to provide to travellers with the Romantik Hotels and Restaurants in Europe.