Aung San Suu Kyi ruled out as Myanmar's next president
Comments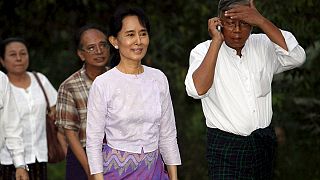 Aung San Suu Kyi's party has nominated her former driver and close aide to be Myanmar's next president.
The National League for Democracy (NLD) is putting forward 70-year-old Htin Kyaw, an Oxford graduate, as its lower house candidate. He is seen as the front-runner.
Suu Kyi is barred from holding the presidency because her children are not Myanmar citizens, the legacy of a junta-drafted constitution.
But she has said that she will run the country through a proxy anyway.
The NLD's huge parliamentary majority means the candidate it backs for the presidency is almost certain to take the top job.
The party's also nominated Henry Vantriu, from the Chin ethnic community, as its upper house nominee.
The joint chamber is due to vote on who becomes president this month. Myanmar's new government takes over on the 1st of April.