2016 Rio Olympics: Protests will be "confronted and repressed" - Brazil's defence minister
Comments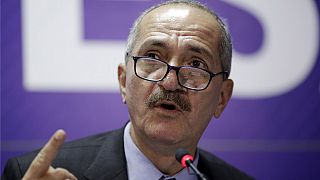 Brazil's defence minister this week said any violent protests over the deepening political and economic crisis in the country will be met by force as the Rio de Janeiro prepares to welcome the masses for the first Olympic Games to be held in South America this summer.
Aldo Rebelo says protests like those seen during the 2013 Confederations Cup must be "confronted and repressed."
Rebelo told a news conference in Brasilia: "What happened in the Confederations Cup – vandalism, aggression, violation of public and private patrimony, such as what as happened at the Ministry of External Relations, at the Municipal Chamber in Rio de Janeiro, the aggression against a security agent, a soldier of the police service in Rio de Janeiro, who was turned into a human torch by protesters, the death of a cameraman – these lamentable occurrences need to be confronted and repressed."
Hundreds of thousands of Brazilians took to the streets in 2013 to protest over bus fare increases but it quickly turned into angry demonstrations throughout the country over a variety of issues including public spending on the 2014 World Cup and upcoming Olympics Games.
Some 85,000 security agents, including 38,000 members of the armed forces, will be deployed to guarantee safety during the three-week Games in Rio that begin on August 5.