Rain-swollen rivers flood central Serbia
Comments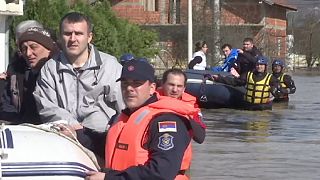 Swollen rivers in Serbia have flooded dozens of homes, land and roads prompting the evacuation of hundreds of people after heavy rainfall.
Local authorities around the central Serbian town of Kraljevo have said that water has spread over dozens of acres of farmland, local roads and into the lower floors of the houses.
The floods have caused power cuts in some areas.
Radoica Kocovic, head of the emergency situation sector for Raska region, said on Tuesday (March 8) that water levels had now dropped.
Serbia was hit by massive flooding in 2014 when dozens of people died and many people had their homes flooded.
Day 288 #rain swells rivers = #flood#Serbia 100s evacuated & #emergency dec https://t.co/8W8wti9GSl#365disasterspic.twitter.com/2hKEdBife4

—

GNDR

(@globalnetworkdr) March 8, 2016