Protesters make a splash in Venice
Comments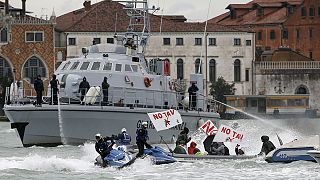 Water was the battle zone on Tuesday in the lagoon city of Venice, as protesters in small boats confronted police.
We do not want to see our environment and cities destroyed
The aquatic activists object to plans for a new high-speed train line linking Turin and the French city of Lyon.
Police fired water cannons as the demonstrators tried to enter the high-security zone where Italian Prime Minister Matteo Renzi and France's President Francois Hollande were holding talks to put the controversial project into action.
Idranti su No Tav e No Grandi Navi, la protesta è spettacolare: «battaglia navale» nel... https://t.co/Nr4CUhHPOMpic.twitter.com/0KgbNYlnfy

— Corriere della Sera (@Corriereit) 8 mars 2016
The rally continued on dry land with hundreds reported to have travelled from across northern Italy to denounce the rail plan and other issues such as the presence of large cruise liners in the Venice lagoon.
"We gathered here today to say 'no' to big ships, 'no' to major public works and 'no' to high speed trains, because we do not want to see our environment and cities destroyed." said one young female protester.
The long-delayed rail project has triggered strong opposition from environmentalists on both sides of the border who denounce the cost and ecological impact. Concern has also been voiced in Venice for some time about tourist vessels sailing close to the fragile city.