UK wife-carrying championships: 'A test of true love'
Comments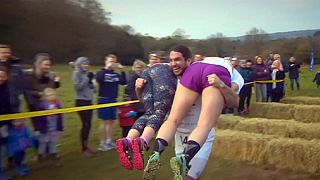 Ladies were swept off their feet in Surrey this weekend during the 9th annual UK wife-carrying championships, a unique event which brings husbands and wives closer than ever before!
Described by some as a test of true love, the origin of this bizarre discipline actually comes from the rather less romantic Finnish legend of Rovo-Ronkainen, who, apparently, liked to snatch women from villages and run away with them through the woods.
America's Jonathan Schwochert and his wife Charlotte Xiong completed the hilly 380 metre course in a time of 1 minute and 40 seconds, enough to retain their title.
The pair, who were awarded a barrel of ale for their efforts, will now compete in the world championships in Finland later this year.
Does exactly what it says on the tin... Watch the wife carrying race in Dorking at the weekend https://t.co/K3HXBj39Ne

— Natasha Salmon (@GetSurreyTash) March 7, 2016