Tens of thousands protest for gay adoption rights in Rome
Comments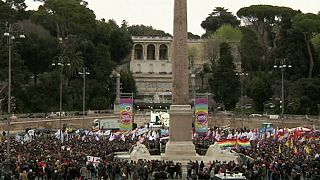 Full equality was the demand of tens of thousands in Rome on Saturday, protesting that a bill to allow civil unions for gay and lesbian couples doesn't go far enough.
The Italian Senate approved the bill last month but only after it was watered down to remove a provision allowing one partner to adopt the other's child.
"We are demonstrating because a first timid step has been made, which is the recognition of same sex unions. But it is not enough," said one father, Graziano Ostuni.
"We are here to ask for equal marriage. We are here to ask for 'stepchild adoption' that should be a civil gesture, as it is in many other countries."
"The family tie of my children with one of their parents is not recognised by law and that is not right," said a mother at the giant demonstration.
"That is why we are here to ask for our children not to be treated as second-class citizens."
Italy is the last major Western country not to give any legal recognition to gay couples. The debate over civil unions has split parliament along religious lines in the traditionally Roman Catholic country.
The bill must now pass to the lower house of parliament where its adoption – in its watered down form – is seen as a formality.