FIFA approves testing of video technology
Comments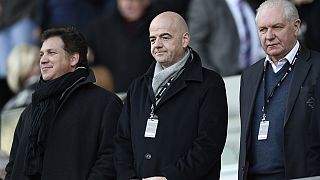 Football's international lawmakers have approved live trials of video technology to help referees in decision making.
New FIFA President Gianni Infantino confirmed the news at a press conference in Cardiff on Saturday, revealing the aim was to avoid clearly incorrect decisions that are pre-defined "game-changing" situations.
FIFA President Gianni Infantino: "Today we have taken a really historic decision for football. FIFA and IFAB are now leading the debate and not stopping it. We are listening to the fans, to the players, to football and applying common sense. We can't close our eyes to the future and technology but it doesn't mean that it will work. This is a big change and a big test we are doing here. We have to be very careful when it comes to protecting the game of football."
The International Football Association Board says it has had interest in hosting live trials from 12 national associations and one confederation.
The use of video technology will be allowed in four questionable cases: to determine if a goal has been scored, a sending off, penalties and mistaken identity.
No more ghost goals: FIFA approves video technology to aid referees https://t.co/n5xLr5Frvbpic.twitter.com/nnpswaB3yS

— dna (@dna) March 5, 2016