Ski Jumping: Koudelka wins in Wisla
Comments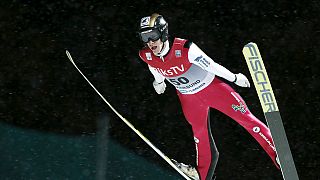 Roman Koudelka posted his first victory of the season on Friday after winning a ski jumping event at the Polish resort of Wisla.
In the foggy conditions the Czech registered jumps of 127.5 and 133 metres for a total score of 269 points.
Although it was the first win of this campaign for the 26-year old it was his 11th triumph of his career.
Norway's Kenneth Gagnes was denied his second win this season by a mere 1 point having made fine leaps of 127.5 and 130 metres.
After securing the season title last Sunday in Almaty Slovenia's Peter Prevc landed fifth place with 261 points.