Corruption investigators question former Brazilian president Lula da Silva
Comments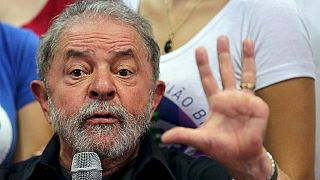 Former Brazilian President Lula da Silva has been freed by police after being questioned as part of a probe into claims of bribery and money laundering.
Investigators are looking into claims that Lula benefited from illegal kickbacks at the state oil company Petrobras when he was in power.
Speaking at his party's headquarters, Lula said: "All they had to do was tell me they were coming.
"But sadly they decided to act with presumptuousness, arrogance, in a show, a spectacle of pyrotechnics".
President Dilma Rouseff, described as Lula's protegee, also spoke out.
"I want to express my absolute disagreement that former president Lula da Silva is again called in an unnecessary and coercive way to be questioned."
It is alleged that Lula financed campaigns and expenses for his ruling Workers Party.
Prosecutor Carlos Fernandos Dos Santos Lima told a news conference: "Today we are investigating evidence that the former president and his family received funds to eventually initiate projects within the government."
Outside Lula's home there were scuffles as supporters protested against the police.
The former president denies any wrongdoing, with a foundation he formed calling the detention an "aggression against the rule of law".