Turkish police shoot dead two female militants in Istanbul
Comments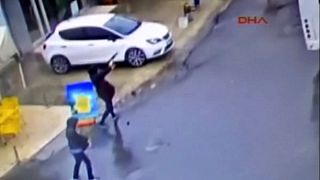 Startling video has emerged of the moment two female Turkish militants launched an attack on a police bus in Istanbul. The drama unfolded in the Bayrampasa district of Turkey's biggest city.
One woman threw a grenade and the other opened fire with what appears to be a machine gun as the vehicle headed for a police station.
After tracking them to a nearby building, special forces responded but not before the pair threw back a grenade from where they were holed up in an hour-long stand-off.
A radical leftist group, the Revolutionary People's Liberation Party-Front (DHKP-C) says it was behind the attack which left two police officers slightly hurt.
Attacks on Turkey's security forces have increased as violence has resurged in the predominately Kurdish southeast, where a ceasefire between Kurdistan Workers' Party (PKK) militants and the state collapsed last July.