Residents return to ruined Turkish city of Cizre after partial lifting of curfew
Comments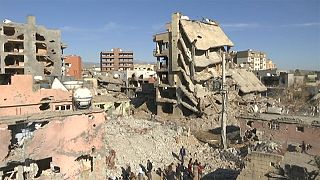 Turkey has partially lifted a strict curfew that has been in force in the southeastern city of Cizre for the past two and a half months.
New images show the destruction from weeks of fighting, with many residents returning to find their homes in ruins.
A full curfew remains in force in the district of Sur and a partial one is in force in the town of Silopi.
The Turkish army says it has been targeting armed militants of the Kurdistan Workers Party, or PKK, saying more than 660 have been what it calls "neutralised" in Cizre alone.
But human rights groups say dozens of civilians have been killed, with one Turkish group giving a figure of close to 200 after recent fighting.
Turkey rejects criticism of its operations, including that the curfews have cut people off from basic supplies and medical help.
The UN has also called on Turkey to investigate reports of unarmed civilians being shot by security forces.
'Those who did this are not human': people of Cizre return to ruins https://t.co/mbVappYP55

— Guardian World (@guardianworld) March 2, 2016
This boy just got back to his ruined home in #Cizre. Dust settles, residents slowly return. (Cadges Erdogan/Getty) pic.twitter.com/CIYKIa5S9N

— reported.ly (@reportedly) March 2, 2016
Mother finds her home rubbled on day 3-month-curfew lifted in Cizre, Turkey's SEeast v GedikYilmazz</a> <a href="https://twitter.com/ayhanbilgen">ayhanbilgenpic.twitter.com/FLFFCm1LnJ

— ilhan tanir (@WashingtonPoint) March 2, 2016
Details of army operations unfold as curfew 'reduced' in Cizre https://t.co/IUaQd6bx6Xpic.twitter.com/K9A8bdSKHF

— Hürriyet Daily News (@HDNER) March 2, 2016
New photos from #Cizre where curfew continued for over 80 days and tens of people lost their lives HaticeKamer</a> <a href="https://t.co/laTGHd03cn">pic.twitter.com/laTGHd03cn</a></p>&mdash; Mutlu Civiroglu (mutludc) March 2, 2016
#Turkey: Residents return to battered Kurdish-majority town of Cizre as curfew is lifted. Photos pironic2121</a> <a href="https://t.co/xFrtAphLR2">pic.twitter.com/xFrtAphLR2</a></p>&mdash; AFP Photo Department (AFPphoto) March 2, 2016
This is what is left of #cizre – destroyed houses, and charred bodies in the basements pic.twitter.com/3veSrWcQEZ

— Hannah Lucinda Smith (@hannahluci) March 2, 2016