Oscar Pistorius loses appeal against murder conviction
Comments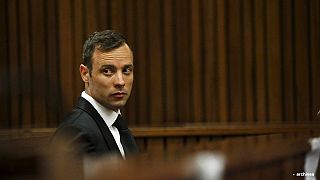 Paralympian Oscar Pistorius has had his right to appeal against his murder conviction rejected by South Africa's Constitutional Court.
In December, the country's Supreme Court upgraded the athlete's sentence to murder from culpable homicide, an equivalent charge to manslaughter.
Pistorius shot and killed his girlfriend Reeva Steenkamp on Valentine's Day in twenty-thirteen. He has spent the last few months under house arrest at his uncle's home in Pretoria while waiting for his appeal.
South African authorities had challenged his appeal on the grounds that the Supreme Court had correctly found Pistorius guilty.
The athlete, nicknamed 'Blade Runner' because of the prosthetic legs he uses to race, now faces a possible minimum prison sentence of fifteen years for murder.
It's likely that he will be sentenced in April.