Brazil and BHP Billiton strike deal over Samarco dam disaster
Comments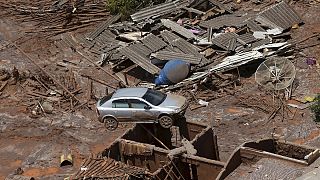 Four months after what has been described as Brazil's worst environmental disaster, a compensation deal has been struck.
The dam which burst in November in the state of Minas Gerais killed 19 people, left hundreds homeless and polluted a major river.
Now, as outlined in separate statements, the mining company Samarco and its owners, Anglo-Australian mining giant BHP Billiton and its partner Vale have reached a deal with the Brazilian government to pay at least an estimated 20 billion reais ($5.1 billion, 4.6 billion euros) in damages over 15 years.
"We welcome this deal with Samarco, as part of the process of repairing the damage to the population – which is what it is first and foremost (of importance) – as well as an environmental project and (the process) of helping the River Doce recover," said Brazil's President Dilma Rousseff.
The spill of mud and mining waste wiped out plant and animal life along a 650-kilometre stretch of the river and reached Brazil's coastline.
More than a quarter of a million people were left without water, and areas of protected tropical forest were devastated.
The payments will be spread out over several years.
The deal does not cover criminal inquiries. After the disaster the government took legal action against the mining companies.
#Samarco#mining waste disaster: "This wasn't an accident, it was a crime." | abciview</a> <a href="https://twitter.com/hashtag/4corners?src=hash">#4corners</a> <a href="https://t.co/MniQ9pQ0mA">https://t.co/MniQ9pQ0mA</a> h/t <a href="https://twitter.com/quijibo999">quijibo999

—

EARTHWORKS

(@Earthworks) March 2, 2016